Andrea Alexander
The content of individual sessions is based upon what each person needs, their characterology, unique traits, their struggle and their aspirations. An individual session usually involves some counselling and often some type of working with the body. This could be breathing exercises, focussed movement or postures. Other sessions may involve mindfulness or trauma release exercises. These exercises help to strengthen your life force and build an increased capacity for joy, love and pleasure.
Body Psychotherapy is centred on the philosophy that our body holds the history of our life experiences. Some of our more painful experiences form defence patterns that are held in our body and personality. Reich referred to these physical and emotional patterns as our characterology. Our behaviour is influenced by our characterology and this is why many people experience the same painful patterns in their life. Patterns such as abandonment, rejection, betrayal, failed relationships, depression and/or anxiety.
By working with the body-mind we are able to gently challenge these defence patterns, creating lasting change, improved emotional wellbeing and vibrancy. This approach is a process and, just as these defence patterns were created over time, healing also takes time. The author Stephen Johnson referred to this work as the "hard work miracle".
Andrea has witnessed many such miracles throughout the years of her practice. Miracles such as clients creating quality intimate relationships, building wonderful careers, finding their life purpose, and experiencing peace, enjoyment and passion for life.
Cost: $110 per one hour session
$100 (pension/student) per one hour session
Call: 0422 883 410
Enquire Online Today
Sarah Tuckett
Sarah is a teaching assistant at the Institute and has a body psychotherapy and counselling practice in Shorncliffe, North Brisbane. She is currently studying a Masters of Mental Health (Psychotherapy) at UQ.  She is also a fully qualified remedial massage therapist and has run her own clinic for three years, so she has a deep understanding of how and where people store stress and emotions in their bodies. Sarah leads weekly Release classes incorporating bioenergetic and core energetic techniques.  Sarah is passionate about helping people remove the psychological and emotional blocks that are keeping them in a place of pain, anxiety and depression; helping them connect to their true nature so that they can live a meaningful life filled with happiness, vitality and connection.
You can contact Sarah at her website on www.sarahtuckett.com.au or
phone her on 0450 220 059.
Book online to see Sarah
Tarquin Ward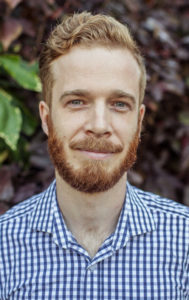 Tarquin is a Body Psychotherapist who runs a private practice on the North Side of Brisbane and also has experience in the community mental health sector and is an intern and group process facilitator at The Institute of Body Psychotherapy.
This wide area of experience has enabled Tarquin to work with people from all walks of life with many different lifestyle and mental health challenges. Tarquin is passionate about working with the science of emotions and using the body to access unconscious issues that are stopping people from embodying and realising their greatest aspirations in life.
For this process to be successful and long lasting Tarquin focuses on creating a safe and respectful therapeutic space where people can explore, uncover and integrate sequestered parts of the self that have been hidden in response to conflict and trauma.
Issues Tarquin regularly works with include anxiety, depression, sexuality, gender, psychosomatic health issues, spirituality, intimacy, expression, career and life purpose.
Mobile: 0433055809
Email: tarquinbodypsychotherapy@gmail.com