UPCOMING WORKSHOP IN BYRON BAY
Saturday 28th and Sunday 29th January, 2023
Facilitated by Andrea Alexander with assistance by Tania Mattiocco. 
what the body




tells us….
Our bodies hold our frozen history including old feelings, memories, trauma and defence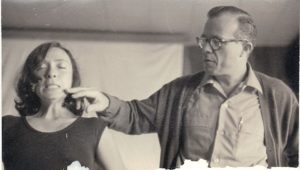 patterns. Our bodies also hold an unconscious map of our how to move out of our pain and move into our
living potential. Consider that blocks in our personality are also held in the body. These emotional blocks contribute to recreating painful experiences such as abandonment, betrayal, rejection and re-experiencing trauma. The blocks
are held in place by physical conditions such as chronic muscle tension, low energy, flaccid muscle, and shallow breathing. By working with the body and the mind together blocks in the personality and body can be reduced, supporting
deep psychological, physical and behavioural changes and expansion of consciousness.
In this workshop participants will learn about how the body interacts with the personality. We
will explore the meaning of height, skin tone, muscles, placement of body fat, bone length, breathing and posture. We will also help you to increase your level of self awareness and consciousness by experiencing healing techniques that work on dissolving blocks and creating a greater sense of aliveness.
This is a Core Energetics workshop  grounded in the work of  Reich, Lowen and Pierrakos (pictured). It is experiential and respectful.  
Where:  InBodify located at

Industrial Estate, 7/10 Centennial Cct, Byron Bay NSW 2481

When:  Saturday 28th January 9.30 am – 5.00, Sunday 29th January 9.30 – 4.00
Cost:  $495  ($450 if paid in full by 18th January.)
Please note that the workshop is limited to 12 participants to encourage safety and deep healing.  To book, please click on this link: https://instituteofbodypsychotherapy.as.me/?appointmentType=40198893
Or phone Andrea Alexander 0422 833 410 or email: andreaalexander@optusnet.com.au
REGULAR CLASSES
OPENFLOW ONLINE CLASSES – THURSDAY 6:30PM WEEKLY. Facilitated by Dana Dobrota.

OpenFlow sessions invite participants to explore themselves and their experience in the moment through their BodyMind. Developing our sensitivity and relationship with our BodyMind moves us into emotional healing and wellbeing.
Body psychotherapy techniques including mindful breathing, movement, vibration and sound allow us to open ourselves to a deeper awareness of our sensations, reactions, emotions and relational patterns in an embodied way. Typically each class will involve stretching and exercises that help us feel grounded and energised. We use sound, breathing and vibration to help release tension and support a feeling of openness and flow in our bodies.
When: Every Thursday 6:30pm
Cost: $15
Where: Online via ZOOM.
Book a class: https://bodymindinbloom.as.me/OpenFlowOnline
More information: Contact Dana via email dana@bodymindinbloom.com or phone 0414 981 340. You can also check out the links below:
www.bodymindinbloom.com
www.facebook.com/bodymindinbloom